I have had my Apple Watch for a little over two weeks now, and as an unabashed Apple fanboy, I have to say I love it. But, could it help you be more productive in your life and business? Read on…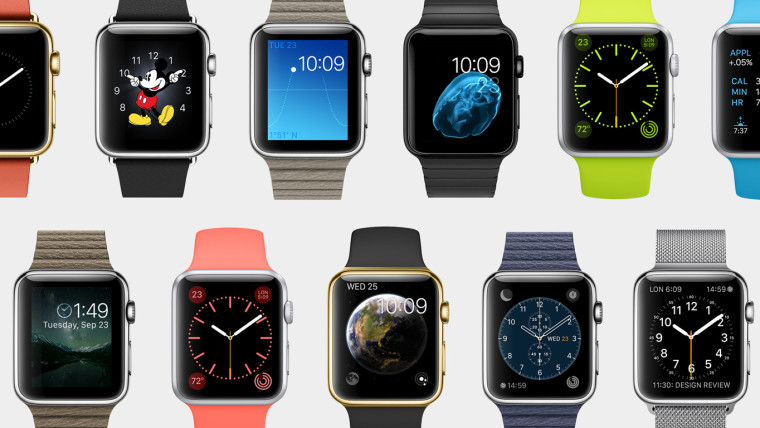 The Hardware
First off, the watch is beautiful. Apple is known for making stylish and elegant hardware, and this is no exception. The screen is Ion-X glass, making it more scratch resistant. It has only one button and the digital crown on the right side. The band fits well, is easy to change if you wish (no blasted pins!), and is comfortable all day. Whether you get the stainless steel model or the aluminum, you can be proud to show it off. The battery lasts all day, but you have to charge it every night. Who sleeps with their watch on anyway?
The Interface
The interface took a minute to get used to, but I soon had it down like a pro. The main screen is the watch face of your choice (10 to choose from, with the ability to customize several features on each). Swipe down to see notifications, just like on your iPhone. Swipe up to reveal app "glances", or scaled-down versions of your corresponding iPhone app. Think of it as the most important information from the app at a "glance". Using the digital crown to scroll allows you to see the information on the screen without your finger blocking it.
The Apps
The native apps are useful (mostly), and the number of iPhone apps with an Apple Watch extension are growing every day. It can work as a remote for your iPhone's camera shutter button, control your Apple TV, or give you updates on sports scores. I even have mine programmed to open my garage door! The Activity and Exercise apps are surprisingly motivating (ask me about "going for a stand" sometime), and the built-in heart rate monitor allows me to go biking or running without the awful chest strap I have used for years.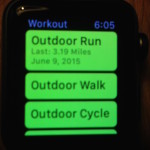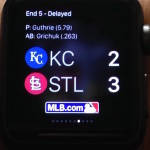 Your Productivity
There have been several times I have noticed a productivity increase, or at the very least a time saver with this watch. Here are a few:
Text messages – If your watch is paired with your iPhone, texts will come to the watch with a chime and a bump on the wrist, leaving your phone quiet. Easily silenced, you can see your texts while in a meeting without ever having to take your phone out of your pocket. Replying is easy, by voice or canned responses, or you can simply ignore them if needed. In the car, it keeps you from reaching for your phone (don't text and drive).
Phone calls – Yes, you can make and receive phone calls on your wrist. But seriously, don't. You'll look like a goober. However, this can be handy while driving for a quick, "Can I call you right back" conversation.
Calendar – Since it syncs with your iCloud calendars, this app is great. You get a distinct bump on the wrist at reminder time, and many of the watch faces integrate the next upcoming calendar item.
Evernote – the Evernote app is stripped down to searching notes by voice and adding voice notes. Handy, because a full keyboard on your watch would be silly. Remember what I said above. Think of it as the iPhone app distilled to its essence.
Omnifocus – This is my go-to daily task and project management application. The Apple Watch app lets you see tasks that are overdue, due today, upcoming, flagged, or in your inbox for processing. For me, the best part is quickly checking the next task on the list, and tapping it "Done".
QuickBooks Online – As a QuickBooks Online Certified Pro Advisor, I highly recommend this software for your small business. On the Apple Watch, you can quickly see important items such as cash balance, accounts receivable, and overdue invoices.
So, to answer the burning question – should you buy an Apple Watch to increase your productivity? In all honesty, I can't say that anyone NEEDS this device, any more than you need any watch. But if you properly separate NEED from WANT, and can justify the expense (pay cash!), you will see small ways to shortcut tasks throughout your day.
What do you think? Do you have one, or will you get one? Leave a comment below, and don't forget to share!